Enroll With Visions In Education
We are now accepting applications for the Spring 2020/21 semester in our online Independent Study (9-12) and University Prep (9-12) high school programs.
We currently have space available in our Independent Study program in Contra Costa, Solano and San Joaquin counties so be sure to get your application in as soon as possible. In all other counties there are waitlists for both of these high school programs and applying students may not be able to start on the first day of the spring semester in those areas.
Due to significant waitlists, we are no longer accepting applications in our Home School (TK-12) program for the 20/21 school year.
IMPORTANT: A completed application does not guarantee placement at Visions. Updated: 12/8/2020
Easy as 1-2-3
Start your personalized learning adventure today. If you have any questions along the way, please call us at 855-482-7902.
Already have an account? Click here.
Step 1 — Start Application
Start Application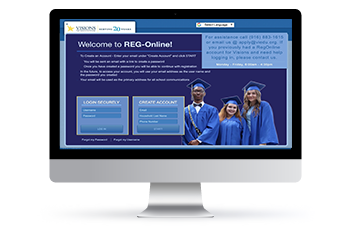 To apply, create an account and complete your application online.
Questions? Call us toll free at 855-482-7902 from 8:00 a.m. to 4:30 p.m. Monday through Friday (except on federal holidays and during Thanksgiving and Winter Breaks).
Frequently Asked Questions
Who is eligible to attend Visions In Education?
Students who live in any of these nine counties may apply: Amador, Contra Costa, El Dorado, Placer, Sacramento, San Joaquin, Solano, Sutter, or Yolo.
Students who will have their 5th birthday on or before September 1 and those who are under the age of 19 are eligible to apply.
Students who have their 5th birthday between September 2 and December 2 are eligible to apply for Transitional Kindergarten (TK). This is a two-year kindergarten program.
Students who have their 5th birthday between December 3 and January 27 are eligible to apply for Transitional Kindergarten (TK) for the Spring Semester.
While enrolled with Visions, students may not be enrolled in any other school public or private.
Do we have to live in a particular school district in order to enroll?
Visions In Education serves students in nine Northern California counties including Amador, Contra Costa, El Dorado, Placer, Sacramento, San Joaquin, Solano, Sutter and Yolo. We are authorized through a local public school district at the center of our service area.
How old (young) do you have to be to enroll?
Typically students must be at least 5 years old shortly after school begins and under 20; however the requirements can be complicated, so please call us toll-free at 1-833-883-1601 if you or your student is close to either of these cutoffs.
When is the deadline for application?
We accept applications throughout the school year for current and future semesters.
Can I apply after the school year has started?
Yes, students are encouraged to apply at any time during the school year.
Enrollment Complaint Procedure
Education Code (EC) Section 47605(d)(4) states that charter schools may not discourage pupils from enrolling or requesting information about enrolling in a charter school for any reason. Enrollment access shall not be limited for pupils based on specific characteristics, including disabilities, low academic achievements, English Learners, homelessness, economic disadvantages, neglect, foster youth or based on nationality, race, ethnicity or sexual orientation.
Pursuant to this law, a parent, guardian or student who is 18 years of age or older may file a Charter School Complaint Form to the charter school's authorizing district if they feel the school is in violation of Education Code (EC) Section 47605(d)(4).
To file a complaint complete the Charter School Complaint Form.