Home School Family Spotlight: Finding a Groove at Visions
The Osadas can be characterized as many things – home schoolers, small business owners, and soccer fans. Although they started out at a traditional public school, they wanted a program that would allow them to explore their passions and family facets, and Visions' flexibility, enrichment opportunities and unique learning environment provided them the perfect place to do so.
"We always knew we'd become a home schooling family," says mom Krizy. "With Visions, we appreciated the idea of having a Credentialed Teacher guide us along the way and stipends to help pay for books and classes."
After making the switch to Visions in 2017, the family got acclimated to the newfound freedom of home schooling. In addition to their studies, students Osiris, Zolia and Milani play competitive sports, take music lessons and perform daily household chores. They even formed their own band, The Osada 3! From singing into hair brushes to performing live in their community, the Osada children have been able to explore their love for music through Visions vendor Leapyear Music.
"Visions has given a tremendous opportunity to The Osada 3, as it's afforded them a chance to learn music from Raymond Bambao," says Krizy. "Raymond is a talented musician with decades of experience, and he agreed to become an Enrichment Vendor with Visions to work with my kids."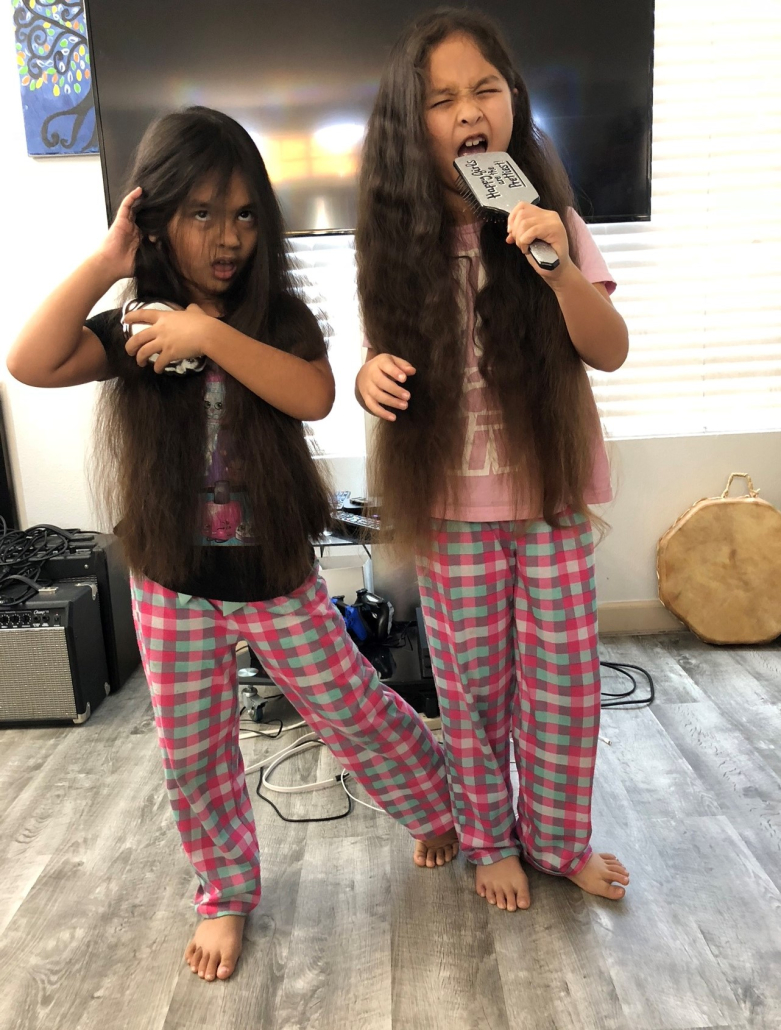 Family Functions
Running a household is challenging, but running a home school and a small business on top is even more difficult. Krizy does all three, learning how to foster an independent learning environment for her students while also managing her home and bakery.
"Juggling the responsibilities of being a home school parent to students in three different grades, while also wearing my entrepreneurial hat and still being the 'homemaker' has its challenges," shares Krizy. "But modeling how to learn is one of my favorite teaching techniques, and now my students can manage their own schedules and studies while also learning more practical skills."
Lessons from a Home School Leader
Krizy likes to call herself the "lead learner," someone who is learning alongside her students as she teaches. With support from the family's credentialed teacher, Janis Zelmer, Krizy has found frequent success in her home school approach.
"We navigate lessons with the premise that I can't learn for them, they have to learn it themselves," shares Krizy. "I've watched my kids make a mindset transformation in home school. Above all the math, science, history and grammar lessons, their most valued lesson was when they realized that they are empowered to discover, pursue and learn almost anything on their own."
Home school has allowed Krizy to become more in touch with Osiris', Zolia's and Milani's learning styles and interests. By not limiting her expectations of them, Krizy has seen her students reach a higher potential in their schooling.
"I've found that home school has given me back the domain to prepare my kids for life skills as well as help develop their learning and life habits," says Krizy. "A school like Visions is a blessing for my family."
To learn more about the Osada family, their home schooling journey and their small business, follow their Instagram accounts: @theosada3, @homeschoolrecipes and @thewhiptbaker.