Student Spotlight: Senior Charley Sears Joins Sister and Brother on The Master's University Swim Team
Charley Sears is no stranger to the water. At six feet tall, he dominates the 200 meter breaststroke, 400 meter individual medley and 200 meter freestyle. A Home School Academy student and soon-to-be early graduate, Charley capped off his senior year at Visions by signing his National Letter of Intent to swim at The Master's University.
"I have always enjoyed sports, and honestly, swimming was not my first choice when I was younger, but it is the one that worked well with home school and for our family, and I grew to love it," Charley shares.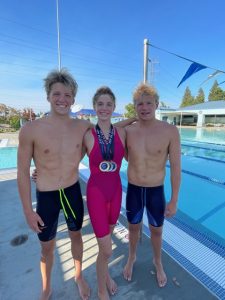 At TMU, the Sears name is familiar. Charley's older sister, Kylee (pictured center), who was also a Visions student, swims for TMU's women's team and currently holds the top swim times in the nation for women in the National Association of Intercollegiate Athletics. His older brother, JT (pictured right), who was the first Visions student in the family, is currently a junior and captain of the TMU men's swim team.
"My brother and sister inspire me," says Charley. "So does my oldest sister who doesn't swim at TMU. I have to praise her, too. [Kylee and JT] are both great students, teammates and athletes. My brother will be a senior next year when I am a freshman. That is the main reason for working so hard to graduate early, so I can attend school and compete in the pool with him."
Parents Molly and Jody are getting ready to send Charley off to his siblings, and are looking forward to seeing their children's lives converge once again in this new chapter. Having been the teachers, caregivers, chauffeurs and cheerleaders for all four of their children, Molly and Jody experienced firsthand the value of homeschooling and a flexible education.
"It was an adventure homeschooling all our children, ups, downs and everything in between. I loved it so much and will miss it, though I think I'm ready to be done," Molly admits. "I find it interesting that [my children] are following similar paths because they are all such different individuals. They each have their own strengths and weaknesses and definitely different learning styles and interests. I love to see the relationship they've developed because they were together all [the] time. They respect one another, learn from one another and enjoy one another, and that is something they'll take with them throughout life."
Click through the photos below to see Charley on his signing day!
Coming Up For Air
Charley's typical schedule consists of eight swim practices and two dry-land practices a week. Morning practice takes place from 5:00am-7:00am and evening practice rounds out the day from 4:00pm-7:00pm. As Charley says, home school "fits nicely" between the two.
"Because of the flexibility of being able to make my own schedule for classes, I am not stressed about getting to school on time after morning practice or worried about all the homework I have to do after practice at night. Reducing the extra stress allows me to put energy into swimming or into studying." 
With such a busy schedule, the family leaned on Charley's credentialed teacher, Elisa Reuter, to guide and support them through his learning. Elisa, who helped Charley find a way to pursue both school and sports, became one of his biggest fans throughout their time together and was present to watch him sign his letter of intent.
"Charley set his goals high to graduate early in order to swim with his brother. His work ethic and devotion to his education and family is a celebration for all," says Elisa. "It has been an honor to be a part of Charley's journey, and I look forward to watching him continue as a student athlete."
"Mrs. Reuter is a great teacher, and I can tell she cares for me as a person. She doesn't just ask about school, but is interested in everything I do and how I am handling life," says Charley.
"Everyone at Visions has been extremely helpful," Molly adds. "Elisa is easy to work with and has a plethora of great ideas that help parents educate their children. She is a great problem solver, and that is very valuable when we are deep in the trenches of the school year." 
As they inch closer to becoming empty nesters, Molly and Jody reflect on what Visions has made possible for their children. Without the flexibility, the freedom and the independence that the Home School Academy allowed, Charley, Kylee and JT would not be where they are today.
"Life is busy, and with four children, it can be extremely busy," Molly shares. "Visions' home school allowed us to reduce some of the busyness that going to a traditional school would bring. This allowed the kids to focus on their education and left time for them to participate in their other activities without running the family ragged. Visions' home school provided the framework that we could work within. It was structured enough to provide oversight and direction and flexible enough to allow each child the individuality they needed to succeed."