Learning How to Work and Play
Independent Study student Lenny Muse recently graduated from Visions In Education, high school diploma, job and eSports gaming championship in hand. A fan of Super Smash Bros. and all things computers, Lenny used Visions' unique educational structure to join an EliteGamingLive club and the school's Student Technology Services (STS) team. This flexibility allowed him to focus on his studies and hone his tech and takedown skills. 
At Visions, students like Lenny are able to explore classes, clubs and careers that align with their goals and hobbies. Aside from on-the-job training received from his position at STS, Lenny was able to take coding and video game design courses. Other classes and extracurriculars offered at Visions, like the Find Your Voice class, our gaming CTE pathway and our STEAM Club, show students how their passion can become their profession.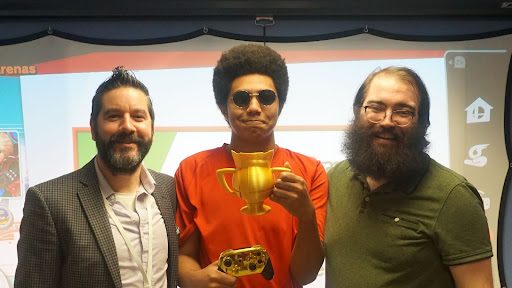 Through personalized learning, Visions prepares students to succeed in a rapidly changing world. We empower them to develop academic, interpersonal and technological skills, and we make opportunities for this development. At Visions, clubs, events, field trips, community college dual enrollment and more are available and accessible.
With a flexible school schedule, Lenny was able to spend part of his time studying curriculum, part of his time learning about technology and part of his time battling his eSports teammates as his go-to character, Bayonetta. For Lenny, it was the perfect dodge, attack, finish combo. It could also be the winning choice for your student.
Learn more about Lenny and Visions' support services in this video!